Are you a blogger looking for the best affiliate programs to monetize your blog in 2023? If so, you are in the right place!
With so many affiliate programs available online, knowing the most profitable ones is quite challenging.
For a quick start, we've compiled a list of the top 10 affiliate programs to help you make money from your blog in 2023.
From popular eCommerce stores to digital services, these programs offer excellent opportunities to maximize your blog's earning potential.
Read on to learn more about the best affiliate programs in 2023.
Disclaimer: This post contains affiliate links, for which I obtain a small commission at no cost to you. You get more information about the affiliate disclosure from the privacy policy page in the footer section.
What Affiliate Programs Can Monetize Your Blog in 2023
Elementor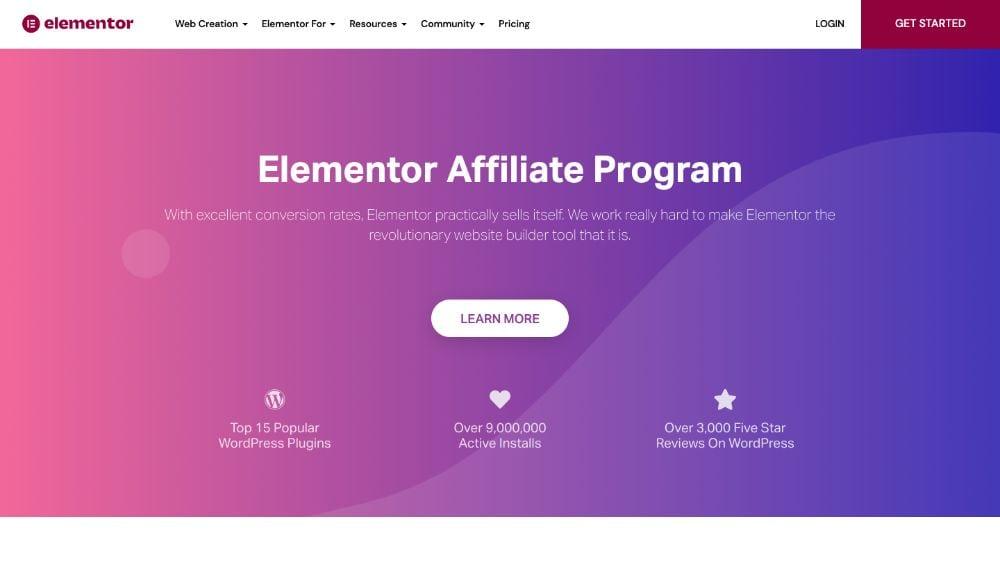 Elementor is a famous website builder that helps successful bloggers and businesses to create beautiful and professional-looking websites easily.
I created this website using Elementor since it is intuitive and has a user-friendly interface. So even novice bloggers can quickly sign up on Elementor, build their websites, and create custom pages without hassle.
In addition to being an excellent website-building tool, Elementor is a fantastic affiliate option for bloggers looking to monetize their websites.
Also, Elementor offers a commission of 50% for any new customer referred through its affiliate program. Its website shows the average affiliate earnings per sale as $100.
With a conversion rate of 10%, Elementor's affiliate program is pretty lucrative for bloggers with significant website traffic.
Besides, to promote Elementor, you can create tutorials or guides on how to use the platform effectively. Also, you can highlight the unique features and benefits of using the page builder. These include improved website speed and customization options.
Try Elementor
Pros
– High commission rate of 50% on the first purchase
– Monthly payouts via PayPal, making it easy for you to collect your earnings
– High conversion rate of 10%
Cons
– Elementor is a niche product and may not be relevant for all bloggers
– The affiliate program does not offer recurring commissions
– The high conversion rate may cause increased competition for referrals.
Amazon Associates
Another popular affiliate program for bloggers is Amazon Associates. This program allows bloggers to earn a commission on any purchases made through their affiliate links on Amazon.
Besides, Amazon Associates boasts over 1 million registered affiliates. Also, it has millions of products available for promotion and an impressive conversion rate of 5%.
Pros
– Huge selection of products to promote
– Trusted brand that many consumers feel comfortable purchasing from
– Easy to use and integrate into your blog
– High commission rates, with up to 10% commission on certain products
Cons
– Commissions can be relatively low on certain products (such as electronics)
– There is no PayPal support, and commission rates may also vary
– Some restrictions on what you can promote (such as specific categories of products that are not eligible for commission)
Overall, Amazon Associates is an excellent way to monetize your blog, primarily if you focus on products that impress your readers.
Fiverr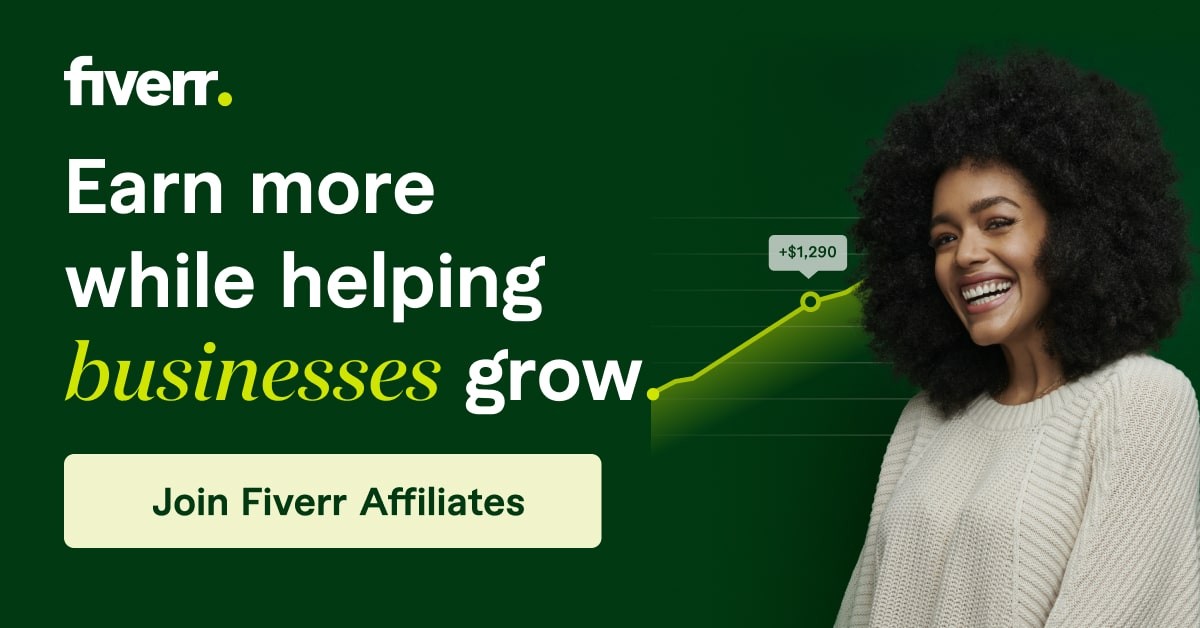 Fiverr is a popular freelance marketplace where businesses can find skilled freelancers to handle their projects.
With over 4.2 million active buyers and over 830,000 active sellers, Fiverr's affiliate program is an excellent opportunity for bloggers to monetize their content.
Also, Fiverr offers a generous CPA commission between $15 to $150, depending on a client's purchases. Additionally, you'll receive a 10% revenue share on all future purchases made by a customer up to one year after they sign up.
One benefit of promoting Fiverr is the many services available. So, there's lots of flexibility regarding promoting the platform on your website.
For example, you can write blog posts highlighting specific services on Fiverr or create video tutorials demonstrating how to use the platform to find high-quality freelancers.
Pros
– Fiverr's services are in high demand, making it easier to promote and sell
– Generous CPA commissions
– Wide range of services to choose from, catering to different niches
– With the high commission rate comes a shorter cookie duration of only 30 days
Cons
– It may take some time to find the right Fiverr services to promote that align with your blog's niche
Overall, Fiverr's affiliate program is an excellent option for bloggers looking to monetize their content by promoting a reliable and popular freelance marketplace.
Thinkific

Thinkific is an affiliate program that provides users with an all-in-one platform to create, market, and sell online courses.
So, with more people willing to learn new skills online, the demand for online courses is growing exponentially, making it an excellent niche for bloggers.
According to a recent survey, researchers expect the global e-learning market to reach $325 billion by 2025, presenting a massive opportunity for bloggers to monetize their platforms.
Thinkific has recognized this trend, and that's why they offer a competitive commission of 30% on all sales. This includes renewals, lifetime subscriptions, and any additional products the user purchases.
Also, they offer users free and paid plans. As a result, it's easier to sell with high conversions.
Pros
– Highly reputable and recognized in the industry
– Their platform offers everything needed to create and sell an online course.
– Competitive commission rate of 30%
– They offer free and paid plans, making it easier to sell courses to your audience
Cons
– They only focus on selling online courses, so it might not be suitable for bloggers that cover unrelated niches
Bluehost
As one of the most popular web hosting services, Bluehost offers an affiliate program with generous commissions and an impressive conversion rate.
According to Bluehost affiliates, users can earn over $65 for each qualified sale they refer. Also, with over 2 million websites currently hosted by Bluehost, there are plenty of opportunities for conversions.
Pros
– Generous commission structure with potential earnings of up to $130 per sale
– High conversion rates thanks to Bluehost's established reputation as a leading web hosting provider
– Strong support and resources available for affiliates to help maximize their earning potential
Cons
– Competition may be stiff in specific niches, making it more challenging to drive traffic and earn commissions
– Limited cookie duration of only 60 days, meaning affiliates must be strategic in their marketing efforts to ensure timely conversions.
Liquid Web
Liquid Web is a high-end hosting provider that offers fully-managed hosting services for businesses of all sizes.
This provider specializes in VPS, cloud, dedicated, and WordPress hosting. You can earn a 150% commission rate on your first sale as an affiliate. Besides, it has one of the highest payouts in the web hosting industry.
Also, Liquid Web has been in business since 1997 and has established itself as a leading hosting provider in the industry.
In addition, they have a 45-day cookie life, which gives you enough time to refer potential customers and earn a commission on their purchases.
Pros
– High commission rates
– 45-day cookie life
– High-quality hosting services
– Dedicated affiliate manager to assist you with your campaigns
Cons
– It has a relatively high minimum payout threshold of $100. However, if you are consistently generating sales, this shouldn't be an issue.
Overall, the Liquid Web affiliate program is an excellent option for bloggers and marketers interested in promoting web hosting services.
With high commissions, comprehensive resources, and a well-respected brand, this program can help you earn substantial revenue from your blog.
Hostinger
Hostinger is a web hosting company that offers one of the best affiliate programs for bloggers who want to monetize their websites. As an affiliate of Hostinger, you can earn between $60 to $150 commission on every sale through your affiliate link.
Besides, Hostinger boasts over 29 million users. So, the potential for making money through this affiliate program is enormous.
Pros
– High commission rates of up to $150 on a tiered pricing structure
– Popular and trusted web hosting company
– A wide range of hosting plans and services to promote
– User-friendly interface and marketing materials for affiliates
Cons
– Slow response from customer support
Overall, Hostinger is a reputable affiliate program for bloggers seeking to promote web hosting services and earn commissions.
Cloudways
Cloudways is an industry-leading managed cloud hosting platform allowing bloggers to earn commissions through its affiliate program.
Also, the platform provides fully managed hosting solutions with optimized performance and enhanced security to help businesses grow online. The program offers up to $125 per sale, depending on your performance.
Pros of Cloudways Affiliate Program
– The managed cloud hosting solutions can attract new audiences thanks to their high-quality performance and security.
– The affiliate program offers helpful resources such as a dedicated affiliate manager, creative materials, and real-time reporting.
Cons
– The high prices of the Cloudways managed hosting platform might not be affordable for some small-scale bloggers, leading to limited target audiences.
– The program lacks incentives such as bonus structures or promotions for higher commissions that could motivate bloggers to continue promoting the platform.
Overall, the Cloudways affiliate program is a top-notch choice for bloggers to monetize their blogs by promoting a managed cloud hosting solution.
SEMrush
SEMrush is one of the well-known affiliate programs in the digital marketing industry. It offers its users a comprehensive suite of tools for improving SEO, PPC, and content marketing.
As an affiliate, you can earn up to a $200 commission rate for each sale and a 10% commission for each new trial activation.
Statistics show that SEMrush has over 470,000 active users worldwide, making it one of the most popular SEO tools.
Promoting SEMrush will give your audience a powerful and valuable tool that improves their website's search engine rankings, identifies profitable keywords, and conducts competitor analysis.
Pros
– High commission rate of up to $200
– Popular and reputable brand in the digital marketing industry
– Offers a comprehensive suite of tools for SEO, PPC, and content marketing
Cons
– The product may not be suitable for beginners
– The pricing plans are relatively high, which may deter some users
FlexOffers Affiliate Program
FlexOffers is an affiliate network that allows advertisers to promote their products and services through publishers, such as bloggers and website owners.
The program has been around since 2008 and has a proven track record of success, with over 12,000 advertisers and over 500,000 publishers on the platform.
FlexOffers has several industries, including health and wellness, technology, fashion, and finance.
Commission rates vary depending on the advertiser and product but typically range from 5% to 50%. The cookie life is also generous, with some advertisers offering a 30-day cookie life.
Pros
– Wide range of industries to choose from
– Competitive commission rates
– User-friendly platform for publishers
Cons
– Some advertisers may have strict approval requirements
– Limited reporting and analytics for publishers
– Commission rates may differ depending on the advertiser and product
Conclusion on Affiliate Programs
In 2023, there are plenty of affiliate programs to consider when monetizing your blog.
From established programs like Amazon Associates and Bluehost to newer ones like Thinkific and Elementor, there are opportunities for bloggers of all niches and audiences.
Remember, when choosing an affiliate program, it's crucial to consider your audience's interests and needs. Look for programs that offer high commission rates and products or services aligning with your blog's theme.
Don't forget to disclose your affiliate relationships to your audience, too. Transparency builds trust, and your readers will appreciate knowing you're earning a commission for any products or services you recommend.
So, explore these affiliate programs for 2023, and see how they can monetize your blog and achieve your financial goals. Good luck!
Do you have additional affiliate programs to monetize your blog in 2023? Kindly leave a comment below to provide more tips to our readers.
Don't forget to subscribe to my newsletter and receive the latest post updates.
Remember to share and spread this post to your friends on social media to help them find success in their blogging.